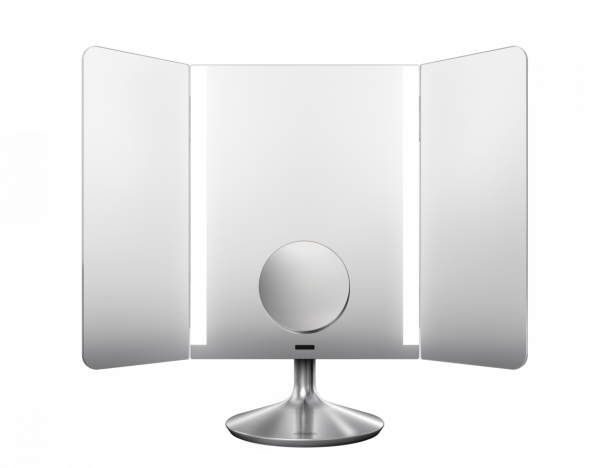 LED Vanity Mirror
When a major household consumer good manufacture, known for high design, visited INOV's optical product development laboratory, they knew they wanted to get into the vanity mirror space with an LED illuminated mirror. However they lacked expertise in quality LED lighting, Color Rendering Index, or Color Quality Scale. They had visited many of our competitors who were traditional LED optical designers, but not experts on magnification and Color, nor on the quality of light from LEDs. LED illuminated mirrors available for sale at the time produced awful color tints in the resulting image, creating an ill appearance.
INOV's vast experience with quality LED lighting and color, enabled us to do on-the-fly demonstrations during the customer's visit, showing stunning side by side comparisons of standard LED illumination and quality LED illumination. The Result? The customer choose INOV as an Optical Design partner. INOV invented a very creative way to move the light around an LED illuminated light guide, in a economical way to mass produce the vanity mirrors at a competitive price for the consumer product market.
Due to these creative INOV designs and the superb quality of light, the product has netted 10's of millions of dollars in profits for our customer, and they have expanded the same technology into two entire product lines – taking over the market for high end vanity mirrors in only a few short years. The original product quickly became the number 1 best seller on amazon.com in the bathroom furniture category, shortly after launch, and can be found in nation wide chain stores such as Bed Bath and Beyond, and in catalogs such as Brookstone.